Okay, Okay. Everybody always asks me for a mix. Believe me, I'm working on some good ones. But in the meantime, here are 3 live mixes that I made as a favor to my cousin and to a friend. Enjoy. I promise I'm working on some shit. Stay posted.
Please, feel free to download, share with your friends, and enjoy. Click on the pictures to download.
Party Time, Excellent Mix: I made this mix for my cousin a couple of years ago for her birthday. She needed something to play in her party bus as her and her friends galavanted around SD.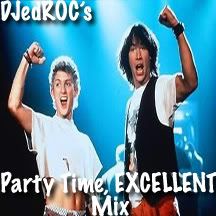 So Fresh and So Clean Part 1 and 2: I made these two mixes for my friend Houng. She needed one of her DJ friends to make a couple clean/radio edit mixes for her sisters inner-city youth program dance. I figured, I wasn't doing anything, why not do a lil good with the talents i've been given.