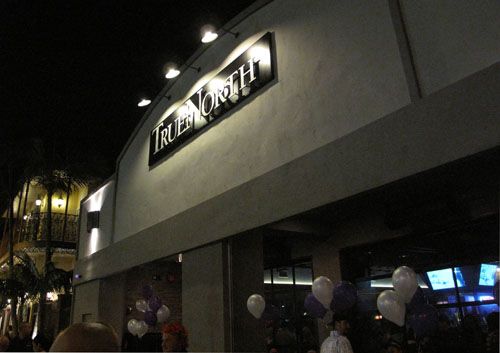 So last Friday when I ditched my friends at Onyx to head to True North for a failed attempt at meeting Michael Jordan, I noticed a familiar face working behind the bar. It was McKenzie! McKenzie was one of the bartenders at my most favorite place in the world, the legendary Landlord Jim's (rest in peace). We talked for a bit, but she was really busy, so we couldn't really catch up. She mentioned to me that True North was going to have their 2nd Grand Opening Party on Tuesday, March 31st, and that Sarah, the former owner and daughter of Landlord Jim's, was going to be there. I really wanted to see Sarah, so I came back Tuesday to meet up with Sarah and McKenzie. What a sight for sore eyes. I've missed Sarah dearly, just as much as I miss Landlord Jim's.
Sarah x edROC x McKenzie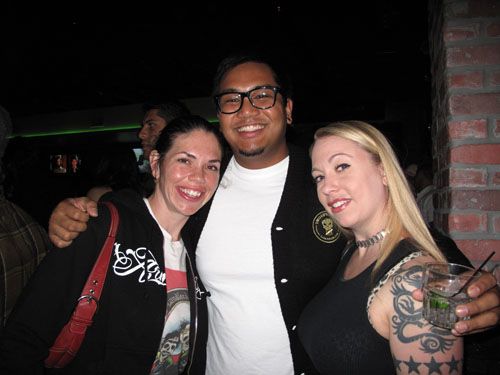 True North is a cool spot, different look for North Park. It kinda sticks out like a sore thumb. It looks like it would belong in downtown or PB (probably because the owner also owns the Tavern in PB), but the music is good.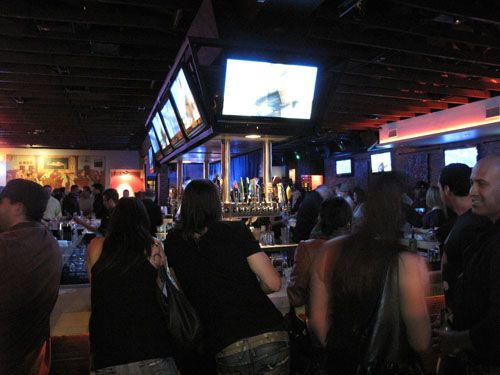 I spy me catching up with Sarah over cocktails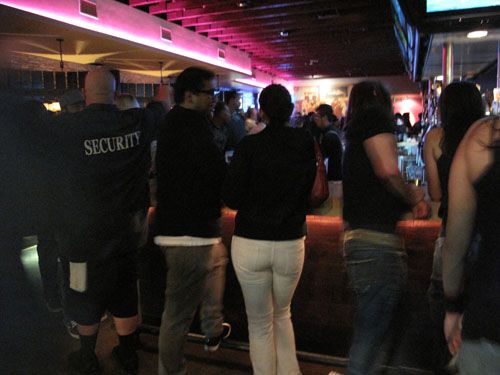 My favorite color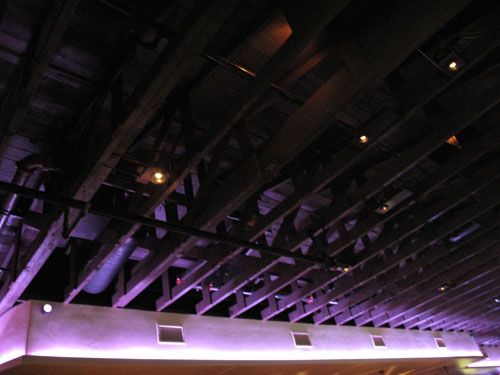 The best boss ever. I hate City College!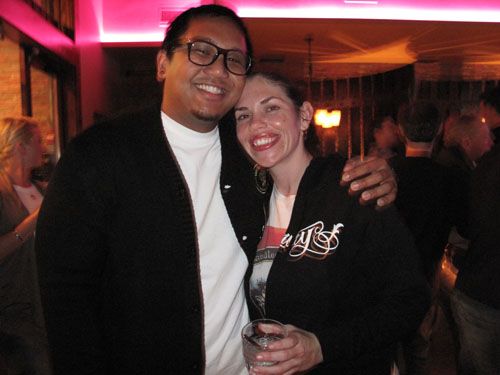 So here's an update on how you're favorite Landlord Jim's employees are doing:
Sarah
:
Has been doing volunteer work for the past year and a half working for Habitats for Humanity, and the Obama Campaign. She is currently looking for a job in a non-profit organization.
McKenzie:
Bartends at Beauty Bar on Saturdays, and at True North on Wednesday, Friday, and Sunday. Drop by and have her make you her specialty, a Bar Fight.
Mitch:
Just had a baby.
Brandon:
Works for the security company that provides bouncers for various spots throughout North Park.
Shane:
Working security as well, I think.
Avery:
Works security at Kadan in North Park.
Osiris:
Is "doing his thing". Whatever that means. haha
And here's the answers to a couple questions you all are probably thinking:
Why was Michael Jordan at True North?
Apparently MJ and the owner of True North are good friends.  Must be nice!
Were there really secret parties held at Landlord Jim's after it closed?
After January 5th, 2008, Sarah no longer owned the building and had to surrender the key.  According to Sarah, she did not know of any secret parties at Landlord's.  Although, she doesn't doubt that there probably was.  
How can they have parties without electricity, water, etc.?
McKenzie mentioned that the building became the perfect spot for squatters.  She actually had a few friends who were squatters living in that building.  The spot was ideal for them because up until the day the building was demolished it still had electricity, and running hot water.  So she also doesn't doubt that secret parties took place at Landlord's because they definitely had the means to do so.  But the parties were not thrown by any of the Landlord Jim's staff.
Soooo.....WTF?!?!?  Why did they have to close on January 5th, 2008?  They didn't demolish the building until March of 2009, and it still had all the necessary amenities to run the best bar in the world.......FUCK YOU CITY COLLEGE!!!!!
Rest in Peace Landlord Jim's