I don't have much free time to begin with, but if it's possible, I now have even less.  Why?  Because I got myself a new Baby Girl, my Yorkie puppy Isabella (Bella for short).  I had a Yorkie a while back, long story short, I no longer have her.  So I always told myself that I would pick up another puppy once I graduate college and free up a lil' more time for myself.  Little did I know that I would pick one up the NEXT DAY.  Yup, the following day after graduation, I came across the EXACT puppy I wanted.  I think it was fate.  She was also the EXACT amount that I had saved for the lens I wanted to get for my Nikon.  So I had to decide whether to get a lens or a puppy.  I think it's pretty obvious what I chose given the title of this post. 
By the way, if you were wondering why I haven't been keeping up with my blog and why I keep posting blogs that are two weeks old.  This is why.  Raising a puppy is like raising a kid.  Potential puppy owners beware! haha
This was the day that I bought her at California Pets... The 1st picture of Bella and her new daddy.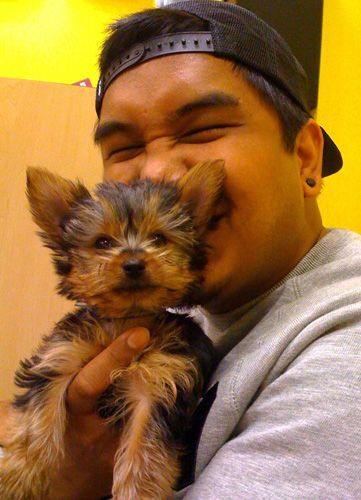 Knocked out after a long day of paper work.  Who knew buying a pup would require so much paper work?!?
She sleeps like me, on her back! haha